Recently we made a visit to one of our long time favorite places—Key West, Florida. Our first visit was 34 years ago to celebrate our first wedding anniversary. Since then we have made numerous return visits and having memorable memories with each one. This time we returned to celebrate numerous events- our 35th Wedding Anniversary, my husband's birthday, and the first anniversary of adopting Mia, our Benji Terrier rescue dog. Heading south on US 1 we enjoyed our 100 mile drive down through the Florida Keys. Driving through Marathon and crossing the 7 mile bridge brought back many memories for me—especially when we passed Pigeon Key. I fondly remember the many outdoor art festivals I did there with my friend Judy. A short while later nearing Cudjoe Key we hit several rainstorms before reaching Key West. We finally arrived late in the afternoon in the rain.
We wanted to bring Mia along to celebrate the occasions, so I searched one of my favorite online apps, BringFido.com to find a hotel where she could join us. With the recent precautions being taken around the covid virus we weren't sure how open Key West was going to be to tourists, but knew they needed the financial help as do most other vacation spots that thrive on tourist income. I booked a suite at the Rose Lane Villas in Old Town Key West.
The villas along with their sister lodging Old Town Manor offer dog friendly vacation packages. Both lodgings are located between Simonton and Duval streets. Our villa was one of two old historic houses that housed six suites with full kitchen set-ups.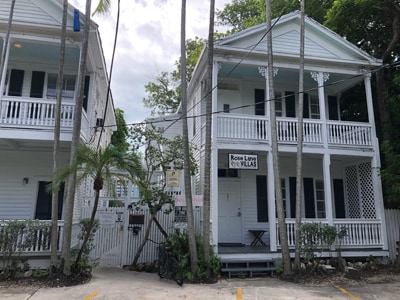 We dropped off our bags and headed to one of our favorite hangouts,
the Green Parrot Bar.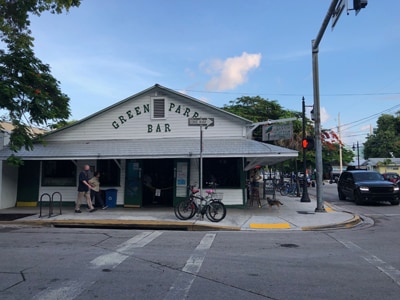 Many rounds of drinks over the years with the locals crowd that
hangs at The Parrot brought back memories good and bad of partying too hardy—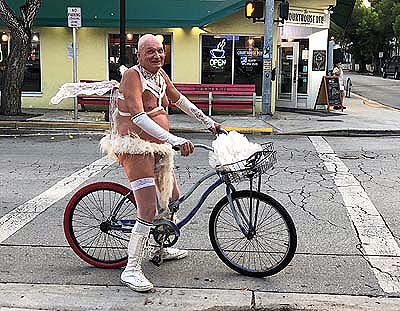 (you never know who you will meet while sitting at the Parrot)
I took a moment to record a short video of the inspiration for one of my batiks—Whitehead Street. You can view ithere.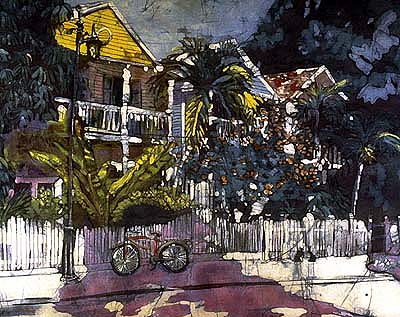 The next two days we walked all over town–stopping for lattes at the Cuban Coffee Queen while visiting the City docks stopping and photographing spots that are often missed if traveling in a car.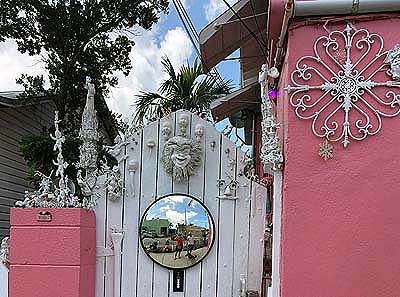 We went back to check out other memories that were recreated in my artwork including : "Shotgun House"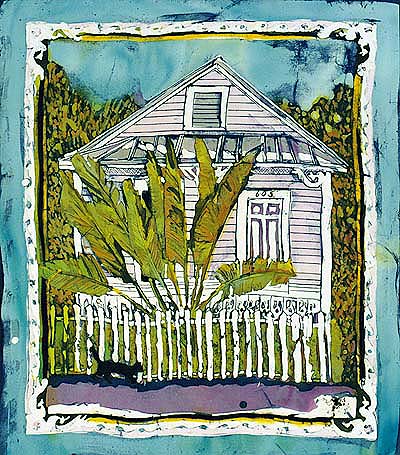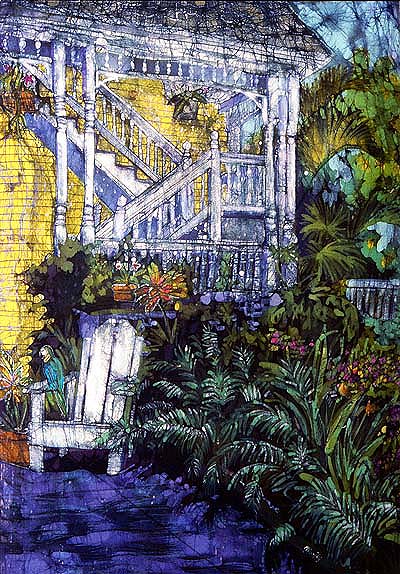 and especially my favorite—"The House That Once Was"(located on Olivia Street across from the Hemingway House)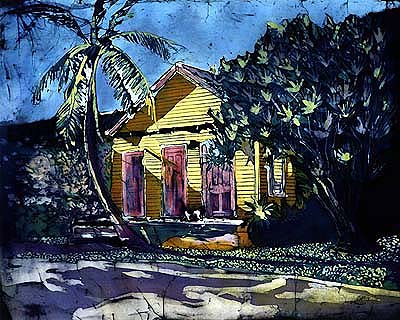 if you click on the title of each painting you can view the origin stories –click on each painting to see them on my website.Other visits were paid to the Southernmost Point and The Rum Bar at The Speakeasy Hotel.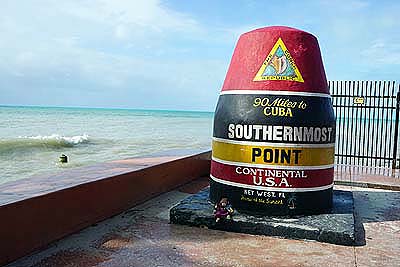 The funky and charming Merlin Guesthouse, the site of our first anniversary trip to Key West had been purchased by the Kimpton Hotel Chain and was being remodeled as "Ella's Cottages". Our second floor suite known as "the Treehouse " had been updated and painted white. We hardly knew the place!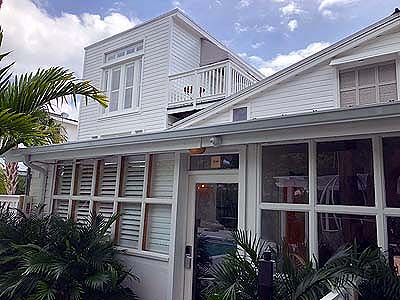 Our final night out was our celebration dinner. We were fortunate to get a table at "The Flaming Buoy Seafood Company" on Eaton Street. Chef Doug and his partner, Scott treated us like royalty while we dined in a socially distanced and intimate surrounding. We thoroughly enjoyed it!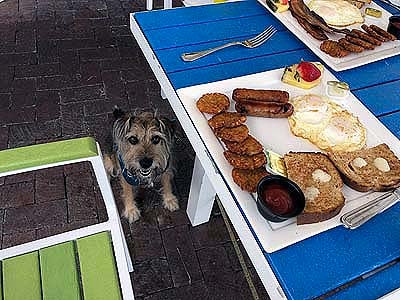 The next morning we had our farewell breakfast at Bistro 245, a waterfront restaurant near Mallory Square that allowed us to dine outside with Mia while watching the ferry and the excursion boats depart. Sadly, we had to depart too. At least we were able to take our photographs and happy memories back with us.